The Owners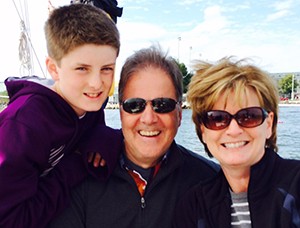 We're Steve and Mary Lou Hassall, the owners of Monster Tree Service of the Brandywine Valley.
I've spent my entire career building businesses focused on customer service, both within and outside of corporate environments. I bring this unique perspective to Monster Tree Service, focusing on making it truly different. I constantly work to provide our customers the best possible Tree Care experience, from the first phone call to when the last twig is picked up. I manage the entire day to day business, making sure all aspects of the process are perfectly aligned for our customers' benefit.
My wife of 21 years, Mary Lou, supports me in the office, doing accounting and planning while still working her corporate job. She is very happy that her lifelong hobby has become the family business; she holds a Certificate in Ornamental Horticulture from Longwood Gardens.
We live in Kennett Square with our teenage son, Kyle and German Shepherd puppy, Kona. We love cooking, entertaining, live music, gardening, all things outdoors, traveling and trees, not necessarily in that order! We are always grateful to our family and friends for their support.
Our Arborist
Larry Canavan is our Certified Arborist with a true passion for tree care. With over 25 years of experience in the Arboriculture industry, Larry is incredibly knowledgeable and driven to provide you with the right solution to help your trees while meeting your needs and budget.
Larry has been certified by the ISA (International Society of Arboriculture) since 2007. He participates actively in the association to maintain and further cultivate his expertise in this field. He embodies the very best of our industry as an engaging and helpful resource who is knowledgeable, friendly, courteous, and principled. His goal is to ensure that your landscape receives the very best care, using the most up-to-date, modern techniques.
Larry resides in the area and likes spending time with his family, riding motorcycles, and participating in a variety of outdoor interests.
Our Team
Our hand-picked production team shares our customer service philosophy. We live by the "Golden Rule". You'll find our entire team to be friendly, courteous and, knowledgeable. They enjoy interacting with our customers, are passionate about their work, and enjoy providing the best service possible. They are also extremely safety-conscious. They will respect and care for your property as if it were their own, and do everything in their power to make sure you are happy with their work.