TREE SERVICE & TREE REMOVAL IN ASTON, PA
Monster Tree Service of Brandywine Valley offers our customers a complete line of tree service in Aston, PA including tree removal, tree trimming, and stump grinding.
Quality Care, Affordable Prices
Our professional tree service in Aston, PA is offered knowing that you want the very best tree care professionals to help you care for your trees and shrubs, while accentuating your unique home and landscaping. Monster Tree Service of Brandywine Valley is prepared to help you protect and enhance the investment you have made in your property with high-quality tree trimming, pruning, as well as a broad variety of general tree services.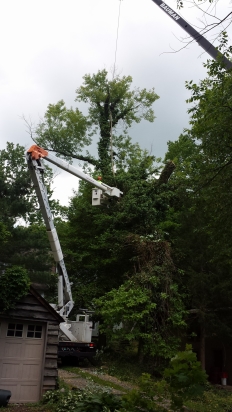 Tree Trimming
An important tree service in Aston, PA that we offer our customers is tree trimming, and it provides several benefits. First, tree trimming helps to maintain and prolong the health of your tree. With regular trimming (or "pruning" as some know it) we can help you maintain a beautiful, healthy tree for years to come.
And when your trees are healthy, since they are the "anchors" for your landscape, your home and surrounding grounds will look amazing. We can help you increase your home's value with regular maintenance and upkeep for all of your trees and shrubs.
Tree Removal
Sadly, even the most beautiful trees have a life-cycle and we will continue to provide safe and efficient tree removal for Aston, PA customers. When your tree comes to the end of its life and begins to drop branches, or will not grow foliage, or has damage to its basic structure, it should be removed.
Many species of trees in Aston can grow to over 100 feet tall and weigh tens of thousands of pounds. Ignoring a tree that shows signs of disease or decline will potentially increase the hazard to your home and family.
Free Hazardous Tree Assessment
Our Certified Arborist is trained in identifying and diagnosing a host of tree diseases that ultimately may results in a hazard for you, your family, your neighbors, and your property. We offer safe and efficient tree removal Aston, PA and the surrounding areas. Allow us to perform a Free Hazardous Tree Assessment to help you identify potential issues before they become larger problems.
So for tree removal in Aston, PA or general tree service and maintenance, the professional team at Monster Tree Service of Brandywine Valley will work to ensure your complete satisfaction.