TREE SERVICE IN CHADDS FORD, PA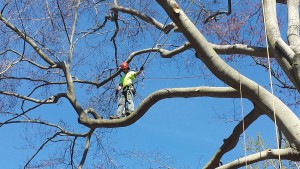 Monster Tree Service of Brandywine Valley can perform any type of tree service needed. We are committed to offering you professional and reliable tree service in Chadds Ford, PA. We are a company comprised of dedicated owners, and highly-trained professionals who are intensely dedicated to their Arboriculture trade and have you and your property's best interests at heart.
Exceptional Tree Service in Chadds Ford, PA
Chadds Ford, PA is a very historic area awash in beautiful landscape scenery, farms, a variety of wildlife, home to the famed Wyeth family of artists, and other historic sites from American history.
As residents of this area, we know how important it is to our Chadds Ford and Glen Mills customers that you receive the very best tree removal, tree trimming, and other tree services to protect, maintain, and enhance your unique property.
We understand that trees have an enormous impact on your local home-scape and the broader environment. Which is why providing these trees and shrubs with proper and consistent trimming and pruning is necessary. If you neglect to give your trees or shrubs the trimming they require at the appropriate time of year when they need it, there is a possibility that these beautiful living resources can turn into an eyesore which will require much more work in the future.
Monster Tree Service of Brandywine Valley is prepared to help you protect and enhance the investment you have made in your property with high-quality tree service.
Our Arborists and our Service
Our ISA-Certified Arborists are highly-trained professionals and need to maintain their certification with ongoing study and commitment to their profession as required by the International Society of Arboriculture (ISA).
Unlike other tree service companies who employ salespeople to find clients and provide estimates, our ISA-Certified Arborists are committed to working in your best interests. We can help you diagnose your specific situation, provide a clear and un-biased opinion based on the best interests of your trees and shrubs, and help provide you with top notch maintenance advice for your landscaping.
We provide a complete suite of services if your tree requires removal which include:
Survey the area for power lines or other overhead obstructions
Make note of any structures on-site that may need to be moved or removed prior to us providing services.
Arrange for PECO or Delmarva to do a free power line survey prior to any work being undertaken.
Work with PECO or Delmarva to make the work area safe for our employees and your home.
Provide a complete assessment of how we plan to remove your tree, including a work plan to move the materials off your property.
Follow all TCIA & ISA Safety protocols.
Wear specialty safety gear, use only commercial-grade tools specifically designed for advanced tree services, and operate specialty vehicles that are maintained by professional dealers to optimize their performance and safety.
Provide you with our Certificate of Insurance (COI) while we are working on your property.
For our customers in Chadds Ford PA who want a full range of tree & shrub care with knowledgeable, efficient, friendly service diagnosed and performed by highly-trained team of ISA–Certified Arborists, Climbers, and Grounds Crew please know that we will be responsive to your needs.
You can contact us through our web form or just call us to schedule a no-obligation consultation with our Arborist for a Free, detailed, written estimate.