TREE SERVICE & TREE REMOVAL IN HOCKESSIN, DE
Our complete range of tree services will provide you with a one-stop shop for your tree care and shrub care needs. Whether complete tree removal, tree trimming, or stump grinding, we can offer you a complete solution for enhancing your property.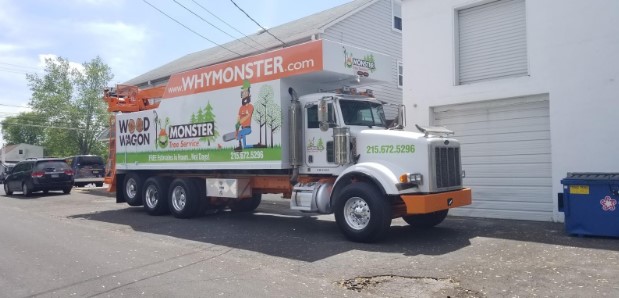 Benefits of Quality Tree Service in Hockessin, DE
Hiring Monster Tree Service will provide you with a professional tree care provider to remove problem trees, enhance your landscape with select pruning of trees and shrubs, and remove unsightly or hazardous tree stumps that might have been left over from a previous owner. We will help to enhance your property by providing a safer and more visually-appealing landscape.
We Provide Unbiased Advice; We Don't "Sell"
By choosing Monster Tree Service to care for your trees and shrubs, you will have selected a proud member of the ISA (International Society of Arboriculture) and the TCIA (Tree Care Industry of America). We abide by a strong code of ethics and responsibility, and whether you hire us for general tree service or complete tree removal in Hockessin, DE, we assure you that you will receive the highest level of professional tree care.
Our Certified Arborist will provide you with the best, unbiased advice available for your tree service in Hockessin, DE.
We are not looking to 'sell' you tree work, we are looking to enhance the longevity and safety of your trees and shrubs. If a project requires trimming and pruning rather than a potentially more expensive tree removal, we will recommend the appropriate solution for you, rather than what is more profitable for us.
Care & Respect for Your Property
For our customers who require tree removal in Hockessin, DE, we work hard to remove the tree from your property with the least impact on turf and surrounding plantings. We are also sensitive to your neighbor's property. So we make sure that unless we have received prior permission, we do not encroach on your neighbor's property in the process of removing your tree or cleaning up your yard.
We place our customers at the forefront of everything we do. Whether you require general tree service in Hockessin, DE or tree removal in Hockessin, DE, from your initial call through the completion of your project, you'll find that every element of our operation is geared to make sure that you are delighted with this experience. Friendly and knowledgeable people, fully licensed and insured, latest technology and equipment, ongoing training in arboriculture practices and safety compliance all work together to ensure a wonderful experience when you work with us.
Please call us for a no-obligation, FREE estimate today.