TREE SERVICE IN NEWARK, DE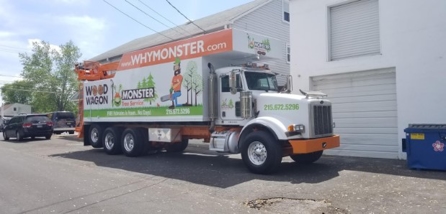 We have become the preferred provider of tree service in Newark, DE. Newark is home to the University of Delaware's "Fightin' Blue Hens," with a vibrant Main Street including wonderful restaurants and charming shops.
Monster Tree Service of Brandywine Valley provides tree removal, tree trimming, and stump grinding throughout northern Delaware. We offer a complete suite of services to ensure that all of your tree care needs are met.
We Service All Areas
No matter where you live throughout Northern Delaware, you'll find our professionally-trained and customer-focused employees ready to tackle any project you have in mind.
If you need professional tree removal in Newark, DE or any type of tree service in Hockessin, DE, you will find that our knowledge, passion, and experience in the tree care space is significant, and our focus is on safety. You can trust Monster Tree Service of Brandywine Valley to properly care for your trees and shrubs.
Proper Care and Maintenance of your Trees & Shrubs
Our experienced ISA-Certified Arborists around Newark, DE will ensure that you receive the proper advice on managing your trees and shrubs. Our team will perform trimming in accordance with ISA-standards which ensures that we are following appropriate guidelines for their proper care and maintenance.
Many times mature trees cannot be maintained in proper health. Only then will we recommend that your tree be removed to avoid further inconvenience or hazard.
We Treat Your Home and Property As Our Own
We carefully rig your tree so we can lower the branches and trunk sections safely to the ground. We take extreme care of your property and surroundings during your project. We are safe and efficient and we treat your property as if it were our own.
Thorough Clean-up of Your Property
We will remove your tree from the premises, unless you want the tree cut into firewood lengths for your fireplace or outdoor fire pit, and remove all debris associated with the project. We will do a final cleanup to ensure your property is as clean as we found it upon our arrival.
Courteous and Friendly Employees
We believe you will be extremely satisfied not only with our work, but with our courteous and friendly employees who are involved throughout your project. Our team is passionate about quality tree care and we are focused on ensuring that you have a great experience.
For tree service in Newark, DE, we hope you'll think of Monster Tree Service of Brandywine Valley. We are always in your neighborhood!