Tree Service in Stillwater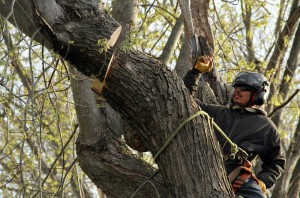 Stillwater, MN, is known to have some of the most stunning gardens, yards and properties in the eastern metro. Tourists flock to the area from spring all the way through the fall. Let Monster Tree Service provide the area with a complete menu of tree service selections for your tree and shrubbery maintenance needs to help keep those gardens and yards looking their best.
Tree Trimming
Trees in the Stillwater, MN, area need to be pruned to promote the tree's sound structural framework. Once a tree has been properly trimmed, it will be healthier, look better and be safer for surrounding structures, people and pets. Finally. When Monster Tree Service prunes your trees, they will have greater clearance and containment of growing space, creating a beautiful landscape and increasing your property value. We know the residents of Stillwater take great pride in their properties, so we make sure this tree service is carefully conducted without any disruptions to the yard.
Tree and Shrub Removal
At Monster Tree Service, we are dedicated to protecting and securing the premises when it comes to trees. Our team is properly trained, experienced and well-equipped to remove trees of all sizes and conditions in a safe manner. Homeowners should leave the extensive and difficult process of tree removal to tree professionals in order to ensure it is performed safely. Our company has removed thousands of trees in the Stillwater, MN, area. We are the tree service you can trust!
Stump Grinding
Monster Tree Service removes tree stumps through a grinding technique that will clear the area so that it can be replanted or provide space for construction initiatives. The stump is grinded below the surface of the ground, and the excess chips are used to cover the ground as dirt mulch.
Tree Emergency Services
You appreciate the trees on your Stillwater, MN, property for the beauty and shade that they offer. But, unfortunately, trees can fail for a number of reasons, causing havoc and damage. Monster Tree Service is there in a flash in the event of any tree emergency. Our arborists act fast with the utmost professionalism to assess the situation in a timely manner. We understand that the fate of your property is in quality tree service–which is why we are here to help you!