Tree Service in Royersford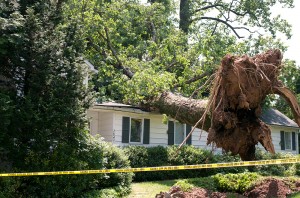 All throughout the rustic and foliage-rich countryside of Royersford, PA, people seek out Monster Tree Service in Royersford for the most reliable tree services this side of the Schuylkill River.
We offer service plans providing emergency and routine tree services, and we understand trees are a vital component to the value of a landscape. However, we also realize the potential threats associated with them.
Believe in Royersford's Most Passionate Certified Arborists
Before we call someone a certified arborist at Monster Tree Service, we require thorough and competitive training. The Occupational Safety and Health Administration (OSHA) certifies that our techniques are the safest ones available for arboreal care experts. We also back our projects and our certified arborists with the best insurance on the market.
When a client hires Monster Tree Service, we guarantee that the certified arborist surveying their property is completely knowledgeable.
We educate certified arborists in all of the commonly planted and indigenous species of foliage around Royersford, PA and the rest of the Lehigh Valley. Regardless of the magnitude of the tree or the problem, we have the techniques and know-how to resolve the issue clean and safe.
We handle all varieties and sizes of trees and landscape trimming and pruning projects, guaranteed. We pledge prompt and proper emergency services at all times. Believe that Monster Tree Service will deliver everything a client wants and more!
Reliable Tree Trimming and Pruning Services around Royersford, PA
Monster Tree Services travels throughout the Royersford, PA area including Spring City and the Upper Schuylkill Valley regions to attend to all potential tree services.
We bring our customers beautiful and strength-enhancing tree trimming and pruning. Our certified arborists know that properly trimming and pruning trees enhances their lifespan and natural beauty. They are stronger during bad weather and safer for surrounding property and people.
We equip our bucket trucks with the latest and greatest tools, appliances and riggings to complete any tree service task. Monster Tree Service also services a wide variety of trees using advanced climbing techniques and crane assistance.
Hazardous Tree Assessments and Removals
We require our certified arborists at Monster Tree Service to accurately identify troubled or hazardous trees on a property. These trees may be dead or dying from disease or animal and insect infestation. Sometimes, they are growing in a spot that is hazardous to surrounding people and property.
Cutting down and removing a precious tree should never be the first option. Our experts at Monster Tree Service believe all trees deserve a full hazardous tree assessment, exercising every possible alternative before we perform a tree removal.
Sometimes tree removal is inevitable. When we have to remove a tree, we execute the job quickly, so the experience is a short one. After that, we bring in our stump grinding gear that can fit in any gate under 36''. We safely remove the stump and root systems paying attention to whatever utilities may run underneath it, including electrical and water lines as well as cables.
We take the area where we removed the tree, adding dirt and mulch from the ground-up stump. We leave the area ready for new replanting projects of all kinds.
Lot Clearing and Storm Preparation
At all of our Monster Tree Service locations, we serve owners of residential, industrial, commercial and institutional properties, as well as owners and managers of construction sites and lots both full and empty.
We provide lot clearing and leveling for new and current construction site and lot owners as well as tree service. Additionally, we can perform snow removal, as well as preventative maintenance in preparation for coming storms of all kinds and magnitudes.
For all tree services around Royersford, PA, choose Monster Tree Service. We bring you our estimates in a matter of hours instead of days. Our certified arborists have comprehensive insurance and extensive training.
Contact us today to learn more about the benefits we bring to all kinds of landscape.