Tree Service in Mountain View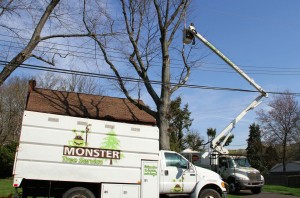 Trees that are dead or dying pose a significant risk to residential and commercial properties. Not to mention the possibility that employees or passersby could sustain serious injuries from falling branches or tipping trees. Whether the trees on your property are noticeably deteriorating, a passing storm seriously damaged them or you just want to make sure they are healthy, Monster Tree Service can handle all of your tree trimming, removal and inspection needs in Mountain View, CA.
Elevating
Elevating a tree involves trimming its lower limbs to provide clearance. It's a preventative maintenance procedure done for trees with low-hanging limbs or branches that are threatening to burst through home or business windows or that are just blocking your view. Performing this tree service in Mountain View will make your trees more attractive, protect your property and open up the sight lines.
Deadwooding
Branches can die for a number of reasons. Insect infestations, diseases, nutrient deficiencies, natural aging and storm damage are just a few of the factors that could make trees require service. Even healthy trees occasionally have troubled branches that need to be trimmed or pruned. Our deadwooding tree services in Mountain View, CA, will improve the look of your trees while ensuring that no harm will come to your property or innocent bystanders.
Cabling and Bracing
When major storms pass through, trees get damaged. Already vulnerable trees, such as young saplings or trees recovering from previous damages, are most at risk for splitting or falling. To prevent the destruction of your valued trees, Monster Tree Service recommends strategically adding cabling and braces. This tree service in Mountain View holds the weak areas in place and reinforces the tree's structure.
Stump Grinding
Stumps left behind from fallen or removed trees can be unsightly and interrupt the landscaping's flow. Monster Tree Service can grind down the stumps until they are below ground level. The soft dirt and wood shavings left behind enhance the soil and allow you to replant a tree, shrub, fresh grass or garden.
Our ISA Certified Arborists work to ensure that your trees are healthy, safe and beautiful, no matter what tree services you need in Mountain View, CA. Call us today to arrange for an estimate in hours, not days. Monster Tree Service guarantees your satisfaction, but dealing with the envious stares is all on you!