Tree Service in Saratoga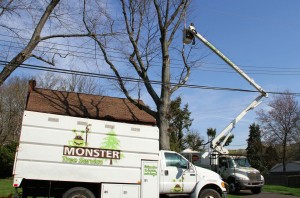 Monster Tree Service's crews have years of experience in the tree service industry. Supervised by an ISA Certified Arborist, our employees are trained in the safe operation and handling of all equipment and are skilled in the care and removal of any sized tree, from the tiniest saplings to the largest, MONSTER-sized trees. All of our tree services in Saratoga, CA, are guaranteed to make your landscaping dreams a reality!
Tree Trimming and Removal
The most dangerous trees are those with structural defects or unstable or dangling branches. Whether the potential hazard is due to damage, age, disease or an infestation, or it's located at the tree's base or near its top, our team of professionals can help. Our experienced arborists can identify dangerous trees and determine if they can be helped or if they need to be removed.
Here at Monster Tree Service, we love trees as much as you do and never want to see them go. Our first hope is that the problem can be solved through a treatment plan or a trimming or pruning service.
Unfortunately, some trees are beyond help and must come down for the safety of your property, your neighbors and any possible passersby. With this in mind, our crews will use the latest equipment and techniques to complete the work with minimal disturbances and the utmost respect for both your time and property.
In addition, we will be happy to cut all removed trees or branches into logs for your fire pit or fireplace, turn them into wood chips for your garden or just haul everything away! Just let us know before we start the tree services on your Saratoga property.
Safety Matters at Monster Tree Service!
Our certified arborists will not accept a tree service job in Saratoga if they do not believe it can be done safely. This is because Monster Tree Service takes the safety of our team very seriously, just as we take the safety of your property and possessions very seriously. In addition to regular safety training, we carry liability coverage for your property, workers' compensation insurance for our employees and are guaranteed to meet or exceed all additional legal requirements for licensing and insurance.
Furthermore, we train our crews in the Tree Care Industry Association's (TCIA) approved safety programs that represent the Arboriculture field's best practices. We are also fully compliant with the Occupational Safety and Health Administration's (OSHA) work safety rules, the Department of Transportation's (DOT) guidelines for safe vehicle operation, and all state statutes and regulations that a professional contractor must adhere to. In addition, to prove our commitment to these principles, we would be happy to provide you with a copy of our licenses and insurance policies.
Our goal at Monster Tree Service is to provide the best overall value to each of our clients. Call us today for any of your tree services in Saratoga, CA.