About Our East Louisville Arborists
Committed to the Health and Beauty of Your Landscape
At Monster Tree Service of East Louisville, we don't take landscape maintenance or plant health care lightly. From grooming to removal, we handle every task with efficiency, care, and commitment to healthy trees and happy clients.
---
Learn more about what we can do for your landscape by calling (502) 237-8125 today. No job is too big for our East Louisville Arborists.
---
What You Can Expect from Our Tree Experts
Anyone can trim a tree, but our team always gets to the root of any given problem and works with your long-term goals in mind. As a home or business owner, you have enough responsibilities without having to worry about low hanging branches, above-ground roots, overgrown shrubs, or persistent pests. Our job is to dig deep and get our hands dirty so you don't have to.
We offer a variety of services, including comprehensive plant health care, pruning and trimming, and complete tree removal. Furthermore, because we know emergencies rarely strike at a convenient time, we are available 24/7 for the issues that can't wait.
No matter the reason you call Monster Tree Service, you will benefit from:
10+ years of experience
Fully insured, licensed arborists
Top-of-the-line equipment for quick, quality work
Eco-friendly practices for the greatest possible impact
Service you can trust for a price you can afford
Long-term care and guidance for years of healthy plants and trees
Monster Tree Service is a solution-oriented, locally owned business. That's why every arborist on our team is a fully-licensed and certified expert, providing comprehensive services for any and all issues you may have.
We believe everyone deserves high-quality landscape services, so we treat every job as if we were working in our own yard. While we will assess your outdoor area with close attention to detail and a commitment to long-term growth, we will never charge you for services you don't need.
Hear From Some of Our Customers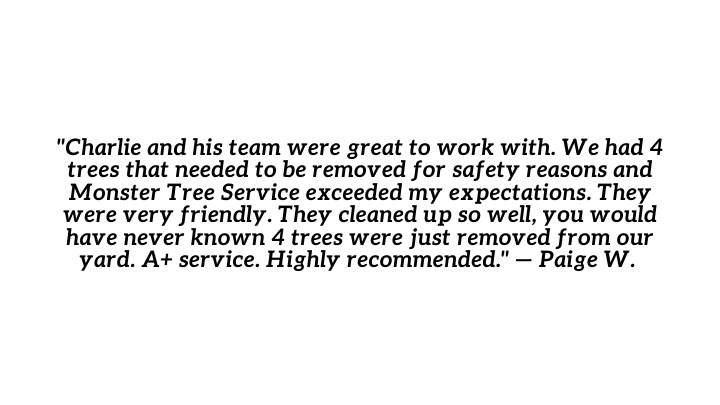 ---
Check us out on LinkedIn!
---
Give your residential or commercial space the care it deserves. Call (502) 237-8125 or contact us online to schedule your appointment today!