Tree Service in Campbell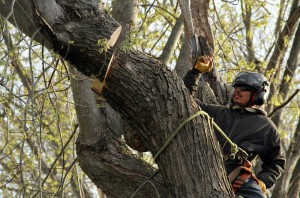 What do you expect from a tree service in Campbell? If your answer is overall prompt, efficient and clean work, Monster Tree Service of the South Bay has you covered. Some of the services that we offer year round include tree removal, pruning, cabling/bracing, stump grinding and much more!
What kind of Tree Service Company are we?
Those looking for a tree service in Campbell can rest assured that we have all of the proper licenses and credentials. We only hire workers that have had experience doing this type of work, and we highly encourage any potential customers to inquire about the certified arborist we have on staff. Additionally, the training our employees receive is ongoing, as one of our highest priorities lie in ensuring that our workers are up-to-date on using all of the latest equipment, tools and safety procedures. Last but not least, home and business owners who work with us can expect exemplary customer service and paramount professionalism.
How is our ISA-Certified Arborist different from others?
As we touched on briefly above, continuing education and on-going training is incredibly important to us and the longevity of our tree service in Campbell. The first way that our ISA-Certified Arborist separates himself from others is by spending his off-time doing research in the tree care health industry. Second, his evaluations of the conditions of your trees are extensive and can include a foliar and soil analysis. In all, we hire individuals who are passionate about their work so that that aspect resonates when they meet with every new client.
How thorough is our tree service in Campbell?
One word – extensive. Aside from offering typical services such as removal and trimming, we offer emergency tree removal, shrub trimming and pruning, lot and land clearing, planting and, most important of all, around-the-clock emergency services.
When Disaster Strikes In Campbell – You Can Count On Monster Tree Service!
Even though the weather is relatively mild in Campbell, there's still a chance that a storm or other natural disaster could occur and damage the integrity of your trees. Therefore, when the situation turns into an emergency, call Monster Tree Service of the South Bay immediately. We are more than ready to help