Tree Removal & Cutting Services in Raleigh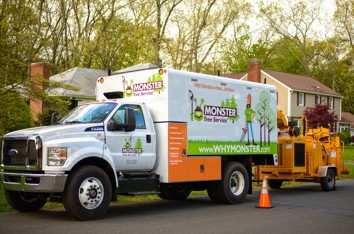 Monster Tree Service specializes in the care and maintenance of trees and many other types of foliage, whether on residential, commercial or industrial properties. We train our Certified Arborists in the whole-life maintenance of a plethora of tree species, from their planting to their unfortunate demise and removal. The services we provide in Raleigh, NC, and around the Research Triangle Area, include pruning, cutting, cabling/bracing techniques, tree and stump removals, and plantings.
If your needs involve a tree or landscaped area, we have the years of experience to handle it—no matter how big or small! We take pride in our exceptional customer service and can guarantee you will not be disappointed when you turn to Monster Tree Service.
The first step towards a beautiful exterior is to call our experts in Raleigh, NC, for a complimentary estimate – performed in hours, not days. We handle every job with a high level of professionalism, taking your desires, our competitors and the expected costs and timeframes into careful consideration. We will assess the area, offer suggestions based on our extensive experience, and ensure that all agreed upon plans are completed on schedule and within budget.
How do you know if a tree is too close to your house?
A good rule of thumb is to make sure all trees are at least 15 feet away from your house. If a tree's branches are hanging over your roof or touching the siding of your house, it might be too close! The Raleigh tree care experts Monster Tree Service of the Research Triangle can assess whether or not the tree will need to be removed or pruned to prevent property damage. Call for a FREE estimate.
Stop daydreaming while you look out the window, and call us to complete all of your envisioned tree service needs in Raleigh, NC!
A Team You Can Trust!
At Monster Tree Service, our certified arborists are friendly, experienced and highly proficient with the latest tools and equipment needed. They are also fully accredited, certified and licensed in the field, and protected with extensive insurance. We also provide insurance to cover your property, whether a residence, business or institution in Raleigh or the surrounding NC areas. Your property and trees are as important to us as they are to you!
In addition, we are active members of the International Society of Arboriculture, which fully recognizes every one of our Certified Arborists. Not to mention that we only teach climbing and restraining techniques that are certified by the Occupational Safety and Health Administration (OSHA). Whether you need basic tree services to maintain the aesthetics and safety of your property or a complete tree removal, you know that you will get the level of service you expect and deserve from us!
Our tree pruning, cutting and removal services in Raleigh, NC, and the surrounding areas are sure to please even the most discerning of landscaping enthusiasts. Whether you need tree services in Morrisville, NC, or have tree removal needs in Fuquay Varina, NC, we've got you covered. Call us today and bring your wildest backyard dreams into reality!